Topics (subject to alterations)
Mechanics of materials

Stress and strain of rods
Beam in bending
Torsion of beams
Calculation of the bending line of statically determinated and undeterminated beams
Kinematics

One dimensional motion
Motion of a point
planar rigid body motion
spatial rigid body motion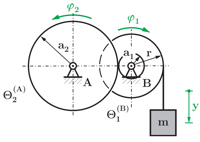 Kinetics

Kinetics of a point
Rigid body kinetics
Newton's laws of motion and energy theorem
Literature
Lecture notes
Exersice collection and formulary
Holzmann, Meyer, Schumpich: Techn. Mechanik, Teil 3: Festigkeitslehre, Teubner-Verlag
Gross, Hauger, Schnell: Techn. Mechanik, Band 2: Festigkeitslehre, Springer Verlag
Hauger, Schnell, Groß: Technische Mechanik, Band 3: Kinetik, Springer Verlag
Hardtke, Heimann, Sollmann: Technische Mechanik II, Fachbuchverlag Leipzig.
Time and Place
see announcement on StudIP
HANDING OUT OF SCRIPTS AND OTHER REQUIRED MATERIAL
The handing out of scripts and other required material typically takes place in one of the first lectures or exercises. Later they can only be picked up from Volker Meine at certain times, see Internetseite des IKM.
Organisation
Lecturer:
Term:
SWS:
Recommended term:
Specifics:

integrated course consisting of lecture, exercise lecture and tutorial
Contact
M. Sc. Simon Ehlers
Research Staff

Address
An der Universität 1
30823 Garbsen
M. Sc. Simon Ehlers
Research Staff