Content
The aim of the tutorial is to program industry-wide applications with mobile robots. The event will take place as part of the robot factory. In teams, the participants independently develop solutions for a given task from the context of mobile robotics and manipulation in order to test and consolidate the theoretical knowledge gained in the course of the event on mobile robot systems.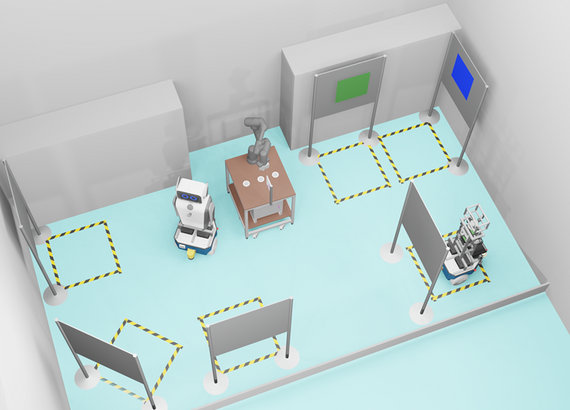 The applications to be programmed during the 4-5 day block event include questions from various disciplines, such as manipulation, object recognition, localization or navigation. The programming itself is carried out using the ROS (Robot Operating System) framework in the C + + programming language.
The tutorial is offered every semester during the lecture-free period.
Roboterfabrik
The tutorial is part of the project roboterfabrik.
In order to make Hannover a leading robotics location, the roboterfabrik project was launched in cooperation with the Hannover Region. The project pursues a continuous approach to the training of so-called robotics natives, which begins at the school (Roberta Regio Center) and continues at the university (imes: mobile robotics, IRT: collaborative robotics).
Registration
The Hackathon takes place in the winter semester 22/23 from 27.03.2023 to 31.03.2023
The registration takes place from 23.01.2023 18:00 clock by entering the Stud.IP course
There are 10 participant places.
Further information about Stud.IP.
Recommended previous knowledge
We recommend knowledge from the lectures Robotics I and Robotics II, as well as experience in object-oriented programming.
Contact
M. Sc. Dennis Bank
Research Staff

Address
An der Universität 1
30823 Garbsen
M. Sc. Dennis Bank
Research Staff